San Francisco has always been a place where people are free to explore and connect. The 1990s were no exception, but they were exceptional, as queer fine art photographer Chloe Sherman demonstrates in her new exhibition Renegade San Francisco: The 1990s, which opens June 17.
"San Francisco, over the decades, has been the wild, crazy place at the end of the rainbow to arrive, whoever you are," said Sherman, 53, who considered herself to be came home when she arrived with her queer friends Tai Uhlmann and Alessandra Ogren in San Francisco from Portland, Oregon in 1991.
"I felt like it was my home," she said. "It was a very obvious place to come and stay."
Rent was cheap, and the city was home to artists, outcasts, queers, and rebels. Basically, anyone who came to San Francisco could survive, live, create, and become whatever they wanted to be. It was an uplifting and provocative time following the bold activism of the HIV/AIDS crisis with ACT UP and Queer Nation, actions against former President Bill Clinton's federal anti-LGBTQ policies "Don't Ask , Don't Tell" and Defense of Marriage Law and a backlash against feminism. The digital age was still on the horizon.
Queer Jewish photographer Chloe Sherman reviews prints of her photos of lesbian life in 1990s San Francisco. (Source: Su Evers)
Sherman was there to capture the attitude and spirit of the city's lesbian scene in the 1990s with her camera.
"The '90s, in particular, were an incredible, radical, pivotal time in the city," Sherman said. "I knew it was an exciting time, and looking at these photos I can confirm that it was a unique and groundbreaking time."
This revolutionary era will be on display in a rare exhibition of 36 archival pigment prints, when his exhibition opens on June 17 at the Schlomer Haus Gallery. This is Sherman's first solo exhibition. The exhibit will feature the iconic "Kindred Spirits", among many photos never before seen publicly.
Lesbian pictures
"Kindred Spirits" is an image of two gay Jewish women with shaved heads – Uhlmann, left, and Ogren, right – wearing yarmulkes and staring intently into each other's eyes. The photo appeared in the award-winning 1996 photobook, "Nothing But the Girl: The Blatant Lesbian Image: A Portfolio and Exploration of Lesbian Erotic Photography", and on the cover of Uhlmann and Ogren's 1996 short, "Bad Jews in my kitchen."
More recently, an exhibit of Sherman's work was curated by lesbian historian and writer Jenni Olson at the Lexington Virtual Club at www.lastbutch.com. Last Butch was created by Elena Rose, a 46-year-old Los Angeles lesbian who lived in San Francisco in the 1990s.
"Kindred Spirits" was also inked on the chest of 29-year-old non-binary queer lesbian Sara Lewis last month.
"The depiction of the Jewish dyke is exactly what I needed to see at this point in my life," said Lewis, who was redefining Judaism at the time on her own terms when she found the photo in a old copy of "Nothing But the Girl". at Dog Eared Books on Valencia Street.
The photo is "provocative in a way, with a lot of love," said Uhlmann, 49, a filmmaker who now lives outside of Vancouver. Like Lewis, the group of gay Jews was redefining its faith and culture at the time.
Sherman, who describes himself as "culturally Jewish," Olgren, and Uhlmann plan to recreate the iconic photo, they said. Olgren was unavailable to comment for this article.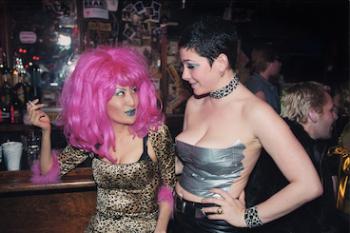 "Hole in the Wall" (San Francisco, 1999)
Nearly 200 people photographed by Sherman in the 1990s travel from across North America to San Francisco for the opening. Brandon Romer, owner of the Schlomer Haus gallery with her husband, Steffan Schlarb, called Sherman's work "evocative."
Romer and Schlarb opened the gallery in October 2021 and discovered Sherman after they started posting the photos on Instagram earlier this year.
Sherman began her journey in the '90s after someone tagged her online in a digital copy of "Kindred Spirits," identifying her as the photographer, she said. She didn't realize the photo had taken on a life of its own for almost 30 years.
In the late 90s, Sherman started a family and a career and listed his 20s and era. The tag was a catalyst for Sherman to begin revising and transforming his 35mm film work for the digital age.
Sherman's documentary-style photography "really showcases and elevates the '90s queer scene in San Francisco. It's so evocative, it's beautiful," Romer said. His images capture "a time and a place [in San Francisco] it doesn't quite exist anymore," he continued, which "makes his work nostalgic and poignant, but also joyful and beautiful."
Tribe 8 lead guitarist and backing vocalist Leslie Mah, left, sits on the lap of Elitrea Fry Jimenez, right, the band's roadie, at the Lexington Club in San Francisco.
find voices
Many people photographed by Sherman are enthusiastic about the exhibit. Speaking to the Bay Area Reporter, many remembered that time as a time when they found each other and found their voice.
Sherman "captured something that really could have gone off the map," said Silas Howard, 54, a queer transmale film and television director, who is one of the people she photographed.
Howard said he came into his creative and political voice in the 90s.
"It shaped me," he said, recalling the music, the art and the times teaching him not to wait for permission to act to change things. "If you want something done, because you're not represented anywhere, that's up to you."
At the same time, "We weren't taking pictures ourselves. We weren't documenting ourselves," he said, grateful to Sherman. "It was very much about the present moment."
Elitera Fry Jimenez, a 48-year-old fluid gay person, arrived in San Francisco from Brooklyn in the 1990s as a roadie for queercore punk rock band riot grrrl Tribe 8, and never left. Jimenez recalled hanging out with the band at the Lexington Club, the lesbian bar in town, and playing a "tough guy" for Sherman and the camera. The Lexington Club closed in 2015.
Tribe 8 lead guitarist and backing vocalist Leslie Mah, whom Sherman captured sitting on Jimenez's lap at the bar, called her back as being "a little mischievous".
"She was really beautiful," said Mah, a 58-year-old self-proclaimed dyke who lives in Oakland. "She was able to polish a scene" or capture people in the moment. "A lot of his photos showed people having fun."
Sherman recalled that the crowd was "collectively creative, supportive, proud and defiant. People were rejecting cultural norms and together embracing a new lifestyle."
"Renegades San Francisco: The 1990s" by Chloe Sherman opens June 17 with a reception, 5-9 p.m., at Schlomer Haus Gallery, 2128 Market St., San Francisco (through July 23). A curated selection of natural wines will be served by Bottle Bacchanal, a new Castro-based woman-owned wine boutique that showcases women, BIPOC and LGBTQ+ producers. The music will be shot by DJ Campbell.
schlomerhaus.com
www.chloeshermanphotography.com

Help keep the Bay Area Reporter going during these trying times. To support local, independent, and LGBTQ journalism, consider becoming a BAR member.