Artists, community members and the Fearing family gathered at the Dare County Arts Council on Sunday May 1 for the opening reception for the 25th annual Mollie Fearing Memorial Art Show, which features the work of 85 local and regional artists .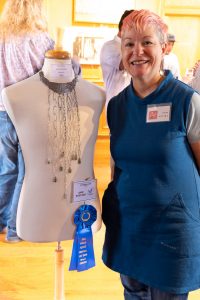 Studio jeweller, goldsmith and enameller Kathryn Osgood has carefully selected the following winners:
Best of Show: Gretchen Dibler "The Trio" (acrylic)
Excellence Award: Fay Davis Edwards "Golden Orbit" (acrylic), Jackie Koenig "Golden Hour" (oil), Feather Phillips "Vessels" (watercolor) and Lisa LeMair "Threnody" (jewelry)
Honorable mentions: Fred Vallade "My World" (mixed media), Cathy Spivey Mendola "Melancholy Blues" (fiber art) and Jackie Tury "Tide and Vine" (acrylic)
People's choice: Booklet by Ashley "Pistol Petie" (oil)
"The Mollie Fearing exhibit is a celebration of the many talents of artists from the Outer Banks region," said judge Kathryn Osgood. "I enjoyed the opportunity to serve as a juror for the show. I found the Best In Show entry to be a wonderfully energetic portrayal of a quintessential Outer Banks scene, boats moored in a marina.The subject almost overflows the canvas and the resulting condensed sense of space draws the viewer into the image.
Gretchen Dibler's Best In Show acrylic painting "The Trio" features three fishing boats.
"I'm truly honored to win Best In Show at this special exhibit," said Best In Show winner Gretchen Dibler. "Having grown up on the Outer Banks, I love the look of old fishing boats, so that's where the inspiration for this painting came from. I wanted to use the teal color because it was so dramatic and I knew that would make the paint stand out.
The show is held in memory of Mollie A. Fearing, one of the founders of the Dare County Arts Council.
The exhibit will be open to the public in the Dare County Arts Council Courtroom Gallery during normal gallery hours until May 28.
Thanks to Jane Webster, Ocean Atlantic Rentals and Lucky 12 Tavern for sponsoring this event.
For more information about the show, please visit DareArts.org/molliefearingshow or call (252) 473-5558.
The Dare County Arts Council is a 501(c)(3) nonprofit arts organization dedicated to fostering the arts in Dare County through advocacy, enrichment, and opportunity.