Smith Hall Art Gallery is presenting a new art exhibit filled with coal artwork that represents the mining industry in West Virginia from August 30 to September 30. Artists Caroline Hatfield, Andrew Needle, and Kathleen Thum used charcoal in each of the artwork. Kathleen Thum, an art professor at Clemson University, said her play was inspired by her interest in fossil fuels, especially oil and pipelines when the BP Deepwater Horizon performed in 2010.
"My interest in petroleum was curiosity, what is the substance that is so vital to our contemporary way of life, fascination and worry." said Thum.
Thum said the charcoal she used in the exhibit was stored in her studio for two years before creating her piece.
"I realized that the way to approach the subject of charcoal in my artwork was a more objective approach – just drawing the material realistically in detail, observing this powerful
rock, "Thum said.
"As the designs evolved, I became more and more interested in charcoal black, so I simplified the charcoal shapes into silhouette shapes, as a more subjective approach."
School of Art & Design gallery director Jamie Platt said there will be a wide range of artwork for students and faculty alike.
"What I think students will be happy about is better access to the Birke Art Gallery at Smith Hall and hopefully being able to attend in-person receptions and artist talks," Platt said.
Van Preston, a specialist in musical theater, spoke of his interest in the exhibition as he passed the gallery on his way to class.
"I haven't been able to visit the exhibit yet, but every time I walk past the door and see that glowing light with the charcoal darkness spreading across the floor, it really draws me in," said Preston.
"It makes me want to not have classes. The exhibit also connects students to their own family history. "Considering that I have a family history in coal mining, I think it's really great to see how he [coal] is turned into art, "said Taylor Racer, a secondary English major.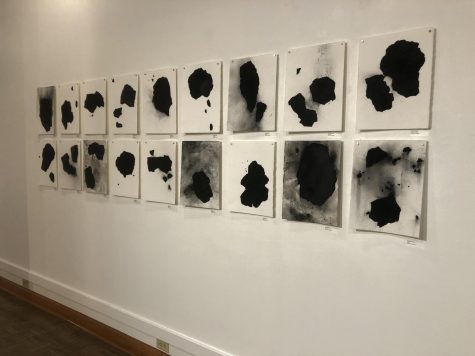 "Art is such a fluid thing and it tells different stories to different people, so hearing that they have something like that here is really exciting."