Cathy Kline has been an artist all her life, spending many hours painting murals before developing her art gallery. Now she creates opportunities for students at the Cathy Kline Art Gallery.
Kline encourages students to visit her gallery and appreciate some of the works on display. She sees art as a break from life's difficulties and a positive channel for living a more joyful life.
"It makes you live a more abundant life. It just makes your life richer," Kline said.
One opportunity to be part of art is to be a model. On Wednesdays artists come to the gallery to paint life portraits and need a subject to paint. The gallery pays a model $60 per session. Some Park University students have already taken advantage of these opportunities, including Major Johnathan Rizzi, who has done modeling twice.
"I saw it as an opportunity to build a community relationship between the art gallery and Park," Rizzi said. "I know the art gallery provides good service of beautiful things. I just wanted to help Cathy by getting more students to help her practice.
Rizzi introduced Sophie Roper to the art gallery. Roper, a double senior in business administration specializing in logistics and computer information systems, modeled twice and said there were usually about six or seven artists painting, sketching or drawing.
"Most of them just do it for practice, so some of them let you keep what they drew and painted from you," Roper said. "It's pretty cool to see their interpretation of you."
During each three-hour session, Rizzi said the model sat for 20 minutes at a time with five-minute breaks for snacks and stretching. Both Rizzi and Roper mentioned how comfortable the environment Kline created for the models is.
"It's actually pretty easy to just sit there," Rizzi said. "It was keeping that posture and looking at that place that was a bit distracting."
Rizzi loves the fact that he's able to help artists practice their craft and get other perspectives on someone's appearance, all while getting paid.
"It was totally worth spending three hours of my day getting paid and also seeing a really cool picture of me. It was really cool to see me through the lens of someone else's eyes," Rizzi said.
These opportunities for park students have been brewing for a long time. Kline's early artistic career blossomed in the form of murals, which she painted for her children's schools and surrounding communities.
Once all her children moved out, Kline decided to pursue her lifelong love for art. Originally bringing her artistic talents to Parkville in 2002, the stock market crash of 2008 sent her home. She eventually returned to Parkville, later moving to her current location at 8701 NW River Park Drive, located off Highway 9 across from University Park's Graham Tyler Memorial Chapel, after her proposal was accepted in 2014. The building was built in 1889, and Kline said she loved moving into such a fascinating building that used to be a train depot, jail, and courthouse.
Since celebrating her seventh birthday at her current location last November, Kline has wanted more students to explore the world of art.
Kline encourages park students to come visit his gallery. Prices for an artwork range from as little as $30 to thousands of dollars.
For those interested in purchasing art, Kline encourages them to start with an affordable piece and follow the artist until their budget allows them to buy a bigger or better piece.
"There's no reason to go to a big box store and be satisfied with one print when there are thousands and thousands of them," Kline said. "But you can have original art at home for less than people think."
Another opportunity for Park students involves creative writing for the gallery's Art Story Show exhibit which runs through the end of April. Students can visit the gallery and choose an artwork that speaks to them and write a story about that artwork.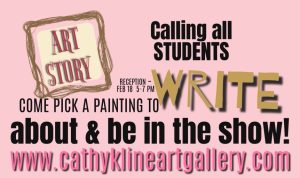 "It has nothing to do with the real momentum of the painting, but it would be the writer's own story, his own interpretation," Kline said.
The story will be framed next to the painting in the gallery. Public exposure of this project would benefit both the writer and the artist.
"It's fun to write, but sometimes you wish other people would see it too," Kline said. "It would be an honor for the artist to have chosen this work to write."
The gallery will hold charcoal portrait workshops on February 27 and decorative hand-painted eggs on March 5. Kline also offers personalized lessons on Mondays and will teach portraiture.
To learn more about the Cathy Kline Art Gallery, visit cathyklineartgallery.com. The gallery is open from 10am to 9pm on Monday and Tuesday, from 10am to 6pm on Wednesday, from 10am to 5pm on Thursday, from 12pm to 5pm on Friday and from 10am to 5pm on Saturday.